Cobra® SP
The Industry's Most Rugged FJ
Cobra® SP was designed to be the next generation's
semi-premium flush joint connection. Conventional flush
joint connections are severely lacking in tensile strength
and torque capacity. They're prone to flared boxes, galled
threads, and slow running speeds. Cobra® SP eliminates
these issues. Unlike a conventional flush joint connection,
the thread flanks serve as the torque stop, removing the
need to shoulder externally. Low pitch threads with
negative flanks are highly resistant to galling, stab deep
and makeup fast. Cobra® SP can be madeup in 5 turns
compared to 12 for API BTC. Negative load and stab
flanks lock the pin and box together radially,
diminishing the potential for jumpout and minimizing
local movement within the connection. The results in
outstanding integrity under bending, tension,
compression, and pressure. A positional makeup
indicator allows operators to run without the need for
torque-turn monitoring. Micro-clearances within the
threads provide a robust seal. Cobra® SP is built to
save operators money and time.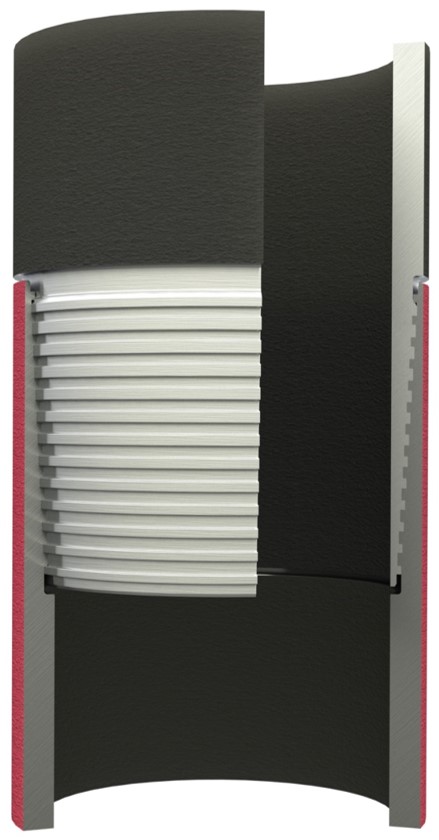 Features
Hardwearing Constrictor® thread form
True flush OD and ID for maximum clearance
Outstanding semi-premium sealability
Low stress for low galling and performance in a corrosive environment
Fast make-up to save operators valuable rig time
Field proven through some of the most challenging flush joint applications
The Constrictor™ thread form provides a significantly larger torque area compared conventional flush joint connections.
NEXT GENERATION THREAD FORM
Say goodbye to connection jumpout, slow running speeds, and galled threads. The Constrictor™ thread form was developed for the next generation of OCTG demands.
Low thread pitch, stepped crests, consistent makeup profile, and variable width threads reduce nonproductive time and significantly increase running speed.
Hoop stress at makeup is less than half that of API BTC compatible connections, reducing susceptibility to galling and corrosion.
The Constrictor™ thread form prevents sliding of the thread under tension, compression, and bending and minimizes hoop stress under load. This provides an ideal stress profile and the ultimate connection integrity.
Case Study: Drilling With Casing
Torque, Fatigue Resistance, Compressive Strength
A key drilling contractor in Louisiana contacted Fermata seeking a flush connection which was capable of drilling through several hundred feet of shale. Their plan was to run a 7" liner through a high-pressure reservoir to best position the string to maximize production. The Fermata well services team evaluated the application and established the primary technical concerns: torsion, fatigue, compression, and buckling. 7" x 32# P110 HC Cobra™ SP was chosen as the connection for the application.
Casing Running
A non-retrievable drilling shoe was made-up in place of a typical float shoe. The Cobra™ SP connections madeup smoothly with consistent torque vs turn profiles for the entirety of the string. Feedback from the rig hands was that this was one of the fastest, easiest connections to run – they have extensive experience running premium connections from another major mill. Once the string was made-up, it was run down to 11,886' using drill pipe where the operator
began drilling operations.
Drilling Success
The 7" x 32# P110 HC Cobra™ SP connection was rotated for over 12 hours at 90 rpm. When the operator drilled through the 400' of shale that they initially targeted, they decided to continue for another 300' or until they encountered difficulty in drilling. The operator was successfully able to achieve this, putting them in a significantly better position to maximize production.
Services available
Technical Support
Field Service
Casing Design
Material Selection
Torque and Drag
Accessories
All material contained in this brochure is for general information only. This material should not, therefore, be used or relied upon for any specific application without independent competent professional examination and verification of its accuracy, suitability and applicability. Fermata Technologies, LLC does not assume any responsibility or liability for any loss, damage, injury resulting from the use of information and data herein.